Rowan Flower Earrings
Regular price

$10.00 USD

Sale price

$7.00 USD

Unit price

per
Product Disclaimer
Accesories Care Guide

We know that, just like us, you're in love with the prints, the patterns, the vivid and contrasting colors, the asymmetry, and the meanings. You want them to remain beautiful, eye-catching, full of character and uniqueness.  You want your favorites to last.

Do not distress! We are here to help you.

General Tips: African Fabric Accessories

When caring for accessories made with African print fabric, the key points are:

     • Store it carefully away from the sun. Overexposure to direct sunlight will fade the print, making your accessories look dull, discolored or worn out.

     • Never scrub vigorously, it damages and smudges the fabric which results in weary-looking and bland accessories.

     • Get rid of damaging dust particles, by lightly brushing with a lint roller (or sticky tape) on a regular basis.

     • Do not submerge in water. It will ruin your jewelry or accessory. Only wipe clean with a damp cloth. It's ok to use a mild detergent for stubborn stains.

     • The only exceptions to the previous rule are our hair scrunchies and tote bags, which can be washed with a mild detergent, at low temperature. 

With beautiful and vibrant colors, our jewelry's charming design combines well with casual outfits to dress up an evening look and is a great choice for everyday wear.
 
Care
     • For the best preservation of your jewelry, always keep it in its original packaging in a dry, dust-free place at room temperature.

     • Avoid excessive heat, and contact with perfumes, cosmetics, and chemicals.

Tips
     • If the tassel starts to fray, cut the loose threads with sharp scissors and it will look like new.

***EARRINGS CARE***

Do not wash or submerge in water, spot clean instead. Do not bathe, exercise, or sleep whilst wearing the earrings, necklaces or bracelets.
Clothes Care Guide

Fabric

Our garments are designed to become timeless features in your wardrobe. From the very first day through to years to come, we strive to produce clothing that looks exceptional, flattering, and keeps well no matter its age. Therefore, knowing just how to care for your African print garment will ensure that you look amazing in your garments today, tomorrow, and always.

We manufacture using only premium-quality, ethically and some locally sourced fabrics. Each garment brings to life the vibrancy and beauty of Africa by primarily using these authentic materials. 

HOW TO CARE FOR YOUR GARMENTS

GENERAL WASHING

African Super-Wax Cotton and African Wax cotton are both forms of 100% cotton materials. The general guidelines for caring for and maintaining these garments are as follows.

Always handle with care.
Wash light and dark colors separately.
Wash all garments inside out to protect the pattern.
Avoid overfilling the washing machine.
Do not wring, rub or twist the material.
Do not bleach.
Do not tumble dry.
Hang to dry in the shade (do not expose the garment to direct sunlight)
Iron inside out on no higher than 150C.

ENVIRONMENTALLY FRIENDLY HOME WASHING

Ensure all garments are washed using a 40C programme. Setting your machine to a low spin will help to minimise energy usage and protect the garment from wear and tear. To further improve the efficiency of your wash, ensure your drum is filled to the correct capacity. Follow the washing detergent's instructions exactly, making sure to abide by the specified measurements and quantities. These steps will help to reduce your household carbon footprint while maintaining the quality of your African pieces.

PROFESSIONAL DRY CLEANING

For the best results, always seek out professional dry-cleaning services for your African print garments. Advise them that a mild process must be used to maintain the item's integrity. Dry cleaning services use a wealth of experience to ensure your favorite piece is returned to you in pristine condition.

 HOW TO MAINTAIN YOUR AFRICAN PRINT

Please note that all fabrics are made using 100% cotton. This natural material allows for shrinkage of up to 5% during washing. Over time, fabric may lose some of their color and/or finish.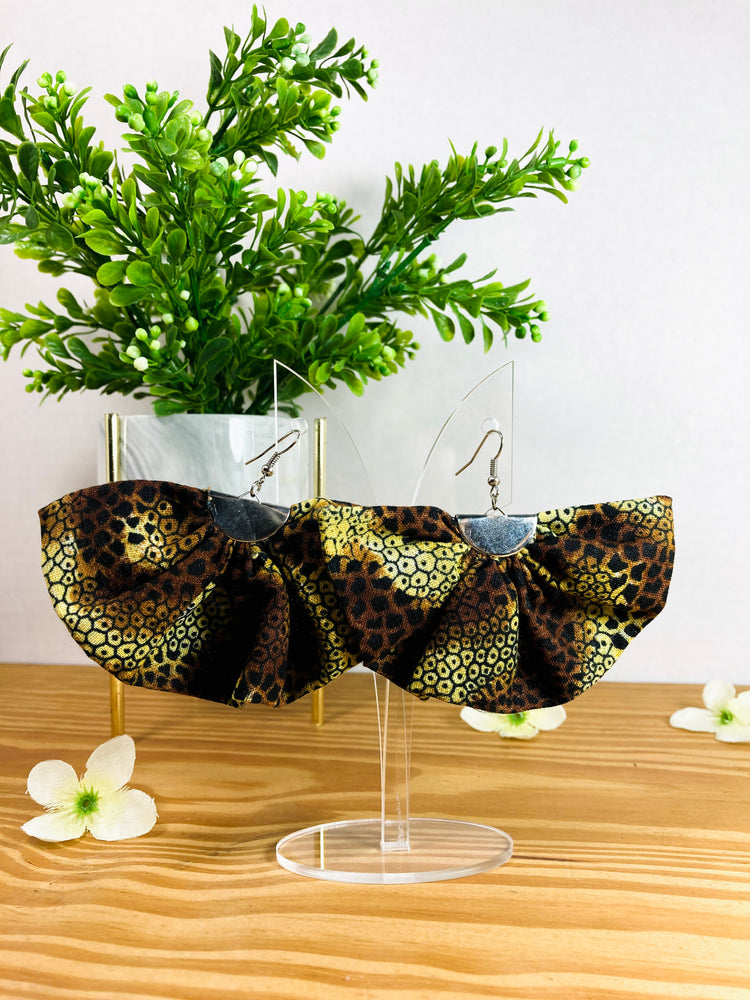 Product Disclaimer
Handmade or Handcrafted
All of our products are handmade and one-of-a-kind creations. As a result, products will have subtle variations from one piece to the next, caused by variations in the material as well as the handcrafting.
 Color
Actual color may vary slightly from those shown on the website due to photographic lighting sources or your monitor settings. Since it is not possible to guarantee our online colors will look the same on all computers, we do not guarantee that what you see accurately portrays the color of the actual product.
Pattern
There can be a slight variance between batches on pattern repeats from the layout and cutting process of the fabric.